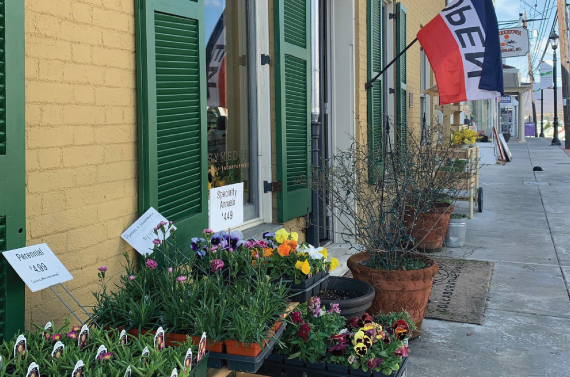 05 May

May 2021
What a difference a year makes!
This May we finally get to enjoy the in-person celebrations and commemorations that this busy month brings (even if things are things socially distant!).  Lucky for us, we have beautiful safe spaces, delicious dining options, and helpful businesses so you can make the most of anything you have on the calendar, or time to just soaking in the warmth and beauty of downtown Middletown.
And, of course, May is the month to celebrate Mom
Main Street Middletown has a plethora of options for finding that unique gift or experience to show Mom how much she means to you and the fam!
Hello Gorgeous, Serenity Salon, and Nails by Mary are places that pamper! Give mom a gift certificate to try out the latest hair trends or let her luxuriate in a mani-pedi!
Stevi Cearbaugh's Therapeutic Massage, or Willowbend Massage Therapy know how to work out those kinks, hunched up shoulders, and tired backs. A trip to either will leave Mom feeling as if she had a mini vacation!
What does Mom love best? Her family, of course!  Surprise Mom with photos from Main Street Middletown's Jennifer Riley Photography.  Jennifer's photos touch the heart and will become the family heirloom to pass down from generation to generation.
Let someone else do the cooking! Give Mom the day off and treat her to one of Main Street's delicious restaurants!  From breakfast at Dempsey's, to dinner at The Main Cup, or a long lunch on the porch of Tapias any one of Middletown's restaurants will let Mom know she is appreciated!
Flowers, anyone? With May, we kick off the Farmer's Market season.  Choose a fresh bunch of flowers, specialty gifts, or grocery shop to save Mom that extra trip.  The Farmer's Market opens each Thursday.  Another local option, head to the Farmer's Market at the Wren's Nest, 100-104 West Main.  Within this building, Mid Maryland Farm carries a selection of fresh veggies, honey, cheese, and a selection of hand-crafted items. Wren's Nest offers small luxuries that will delight any collector of interior décor.  Outside, The Vine offers a wide array of plants, herbs, and seasonal floral arrangements.
For the Mom who loves sports – you can't go wrong at Middletown Sportsland! Set Mom up with new gear and let her get out and play!
Want to go all out and do it big for Mother's Day? Take her to Gladhill Furniture and let Mom pick out that brand new sofa she wants so badly!  Or the new dining room suite, or the new chest of drawers, and oh – that new bed!  There is a reason this 100+ year old business has served the Valley this long – it is chock full of American-made lines that elevate the style and comfort of house to home.
May is also Historic Preservation Month
There is no better place than Main Street Middletown to capture the romance of a wrap-around porch, the intricate detail of a Victorian home, or the amazing structures of Zion Lutheran (1854) and Christ Reformed Church (1818).  Visit  to download one, or all six of our walking tours.
Have you seen the fabulous youth artwork displayed on Main Street?
We hope you can spend a little extra time downtown as we showcase the fabulous artwork of Middletown High School students.  We are bringing the art gallery to you!  Walk downtown, select your favorite pieces by voting through the provided QR Code.
Main Street Middletown, MD Inc. will be awarding the top three artists cash prizes.  We invite you to stay a bit longer and shop local.  Our businesses really appreciate the support!
We are open, friendly, and follow all COVID safety guidelines.  We think you're going to love being in downtown Middletown.