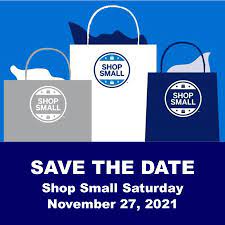 02 Nov

November 2021- Small Business Saturday

Main Street Middletown invites you to visit us on Small Business Saturday and throughout the holiday season!  Avoid the holiday shipping delays and buy gifts for everyone on your list.
FREE PARKING
First, parking here is easy!  We have on-street parking as well as several lots – all for FREE!
OAK & STEEL
We suggest starting at Oak and Steel Live Edge Furniture located at 1 West Main Street.  This is our newest retail venture in Town and the selection of furniture, décor, and home goods are all made locally.  Imagine the wine and cheese lover in your family opening a beautiful charcuterie  board handcrafted by the store owners.
DEE BUCHANAN STUDY OF DANCE
Carefully cross Main Street and walk up to Dee Buchanan Studio of Dance.  Miss Dee has just expanded her space to add clothing items for sale. Find the perfect piece for your little niece, the ballerina. Imagine her smiles as she sees the bundle of pink tulle!  While you're there, pick up tickets for the annual production of The Nutcracker, a Middletown tradition that you can add into your family's tradition of fun-to-do holiday events (without breaking the bank).
THE MAIN CUP
Is it already time for lunch?  The Main Cup is so close, you can smell the delicious food being prepared, and your favorite menu item is calling your name.  Better pick up gift certificates for the gals in your book club while you're here!
MID-MARYLAND FARM MARKET & THE VINE GARDEN PLANT OUTLET AT WREN'S NEST
Next stop is Mid-Maryland Farm Market, located within the larger shared space of Wren's Nest at 100-104 West Main Street.  Recently opened in the spring of 2021, Mid-Maryland Farm Market is full of seasonal delights. We suggest one of the many tasty varieties of cheese from Moo-Cow Creamery for this weekend's neighborhood party! Browse the hand-woven placemats for your Mother-in-Law, and handcrafted candles for teacher gifts.
Take in the lush holiday fragrance that fresh greenery provides, instantly putting you in the holiday spirit, at The Vine Garden Plant Outlet.  With so many choices of greenery and flowers, pick a fresh arrangement to place in the hallway, dining room, and over the mantle or as a beautiful hostess gift. Be sure to wander to the Wren's Nest Gallery for locally created art featuring scenes of Middletown Valley and our adjoining neighboring towns and countryside.
DEMPSEY'S GRILL
If your arms are full, it is not too far to run back to the car and unload some of your packages. And there's no need to move your car or search for additional change.  Convenient free parking makes visiting Middletown so easy!  If you need a pick-me-up to finish up your shopping, stop by Dempsey's Grille to quench your thirst and enjoy the a slice of homemade cake to get your energy back up!
SPORTSLAND
Next door, you'll find Sportsland, a long-standing Middletown favorite with oodles of t-shirts, hoodies, baseball caps, and sporting equipment. Customize your order and check off a hoodie for your high schooler, and a new mitt for your little leaguer. Stocking stuffers can be easily obtained for everyone on your list at Sportsland!
GLADHILL FURNITURE
Company is coming to your house for the holidays and the dining room table has been overused over the last year serving as a desk, a table, a place to play board games throughout the pandemic. Maybe the guest bedroom was converted to an office, and now it needs to be converted back to a guest bedroom. Just down the hill in Middletown is one of Maryland's oldest furniture stores, Gladhill Furniture. Gladhill brings style, comfort, and value to your home with five floors of furniture, décor, and home goods. Why buy online when you can feel the softness of the cushions, the sturdiness of the tables, and pick the exact colors to match your décor? Gladhill has been helping customers turn their houses into homes for over 105-years.
NAILS BY MARY, SERENITY HAIR SALON & HELLO GORGEOUS
With your Small Business Saturday shopping completed, relax and stop at Nails By Mary on Green Street who specialize in pampered service with a smile. Oops – you forgot – make one more stop – you have that corporate party – check in with Serenity Hair Salon and Hello Gorgeous to book an appointment for a trim, or even a special occasion up-do!
Join us on Small Business Saturday and throughout the holiday season. Discover for yourself the charm, convenience, and one-of-a-kind treasures, and outstanding services that can be found in Main Street Middletown.