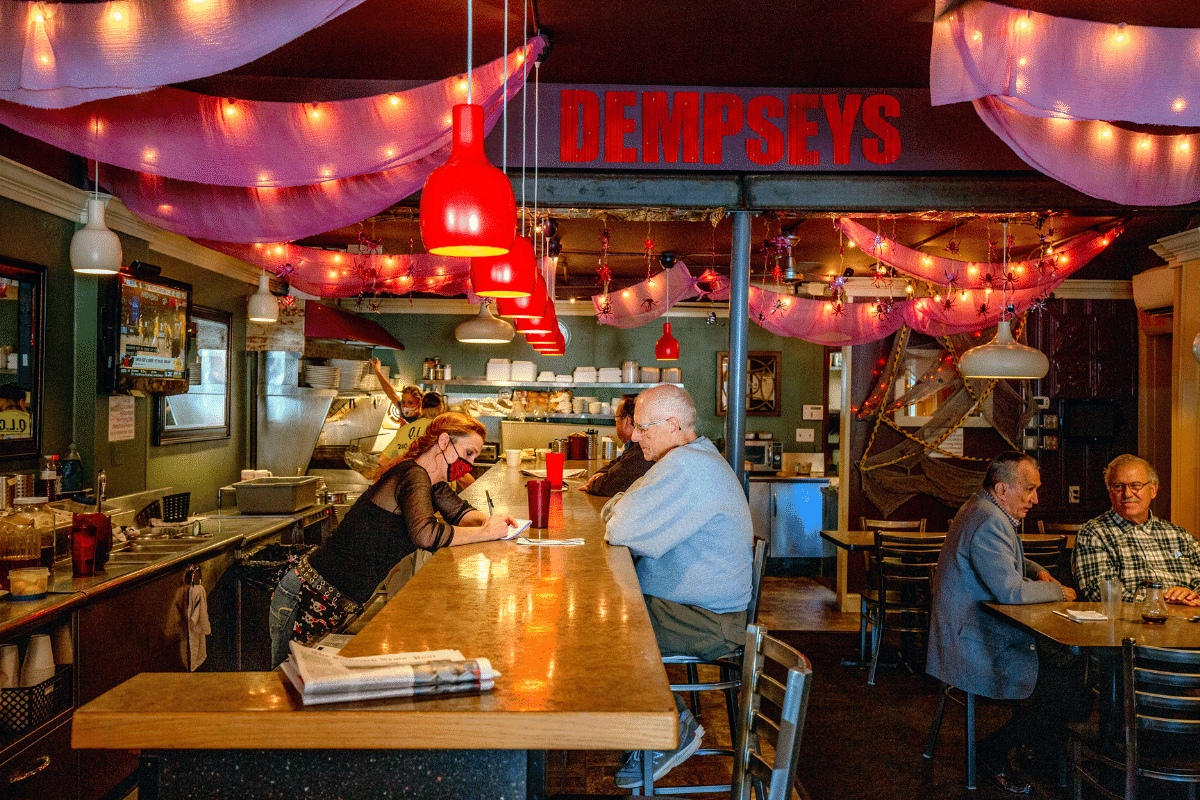 16 Nov

November & December 2022
Holiday Season on Main Street Middletown
It's the big holiday season – a rush of thankful, grateful feelings we share in November, and the giving of gifts in December.
While most people reserve Thanksgiving celebrations for the day, we encourage you to visit Middletown before the Big-Turkey Day and celebrate with those other folks you appreciate in your life- friends and colleagues!  Each year Dempsey's Grille cooks up an amazing pre-Thanksgiving Thanksgiving Dinner or Lunch. The turkey is deliciously moist, the mashed potatoes, stuffing, cranberry sauce, and green beans are all yummy options. Did we say more gravy, please?  Yes, top it all off with Dempsey's thick gravy to make the meal complete.
For the day of, we understand, it is a lot of work to cook for a crowd!  Reserve your pies and desserts now, by visiting Deb's Artisan's Bakehouse!  Deb has your back.  With options that are all so tempting, deciding which pie to bring home will be the hardest decision of the day.  And we promise, everyone will have their sweet tooth satisfied.
Small Business Saturday
After a big meal, it is always good to get out the next day and walk off those extra calories. We've made this fun!  Come on down to the Main Street district, browse in and out of our super friendly shops for Small Business Saturday.
We encourage you make your first stop at Oak and Steel/Brew 30 to grab that cup of java to get you going and perhaps while you are in there, pick up some local art as great gifts for that hard-to-buy person on your list.
A stop at Wren's Nest at 100-104 will find locally made gifts from Mid-Maryland Farm Market, fresh winter greens and plants from The Vine Plant Outlet, and other unique luxury gifts scattered throughout the building.
Sportsland is a must stop in Middletown!  For anyone who enjoys sports, they have the gear, the clothes, and loads of local gear to show your team spirit!
For those most important on your list, we suggest going to Gladhill Furniture.  Show your love for each other with a beautiful new bedroom suite, or the next family heirloom of an elegant Grandfather Clock.  Gladhill Furniture has decorated homes in Maryland for over 100-years.
Elves on Main Street
Best of all, we have made this shopping excursion fun for the entire family…Elves are scattered throughout the Main Street district! 
Pick up your Scavenger Hunt form at Town Hall, or download from the Christmas in the Valley Facebook page.
After you've filled it out, drop off the Scavenger Hunt form off at Town Hall for a chance to win a prize!
Christmas in the Valley…Coming soon
And finally, don't despair if you are out-of-town for Thanksgiving. Christmas in the Valley is the next big event scheduled for Saturday, December 3, at 4pm.  Stay tuned for our next post on the details of Christmas in the Valley, one of the most magical nights of the year!