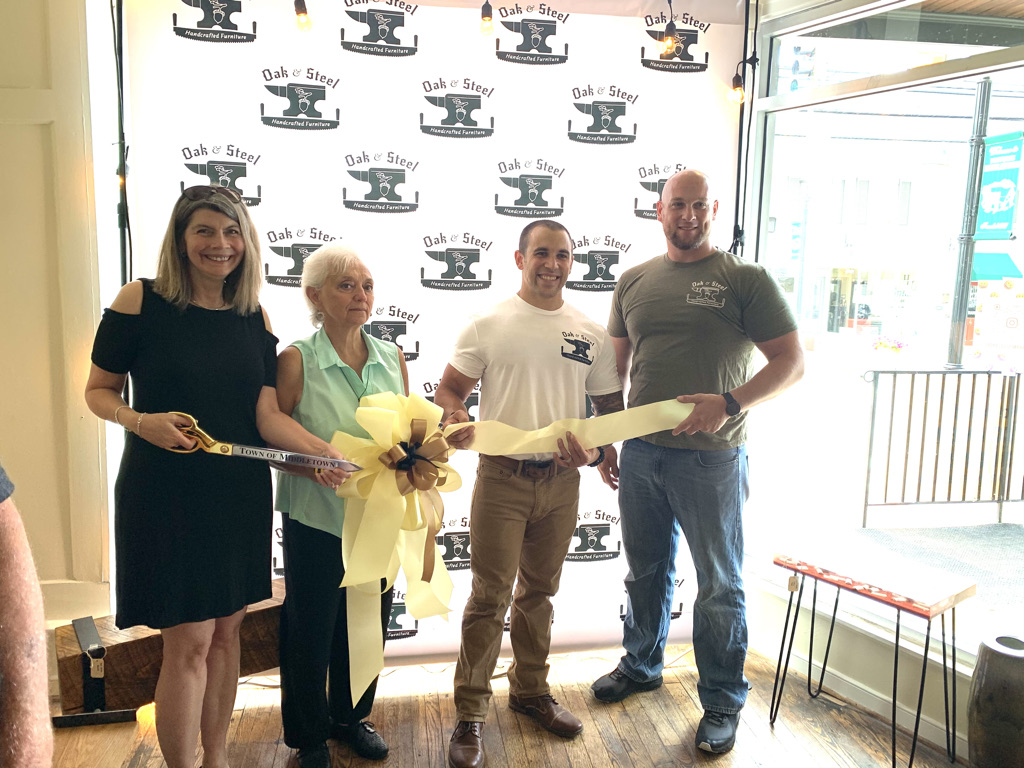 01 Aug

August 2021 – Update Those Inside Spaces

In the dog-days of summer, it's a relief to retreat inside into the cool with an iced tea in hand.

Although it almost feels wrong to head indoors after feeling so free, unrestricted and unmasked(!) outdoors, it's hard not to when August afternoons can get hot and humid. We need to look at our cool indoor spaces as a refuge from the weather and a place to gather.

If you look around and need to spruce up your living room or your home office, come on over to Main Street where we have lots of folks in Middletown to help you transform your interior space into the respite you deserve.

To say that Gladhill Furniture is a local institution is not a stretch of the imagination.  Entering their 106th year of business, these folks truly understand what you want and need to decorate a space that is customized to your taste, comfortable, inviting and of the highest quality (that can even withstand the wear and tear of children and pets jumping on the couch).  This is not furniture you assemble yourself.  This is furniture you hand-down.  Selling American-made lines, Gladhill can help you furnish your house from top to bottom.  With five floors of furniture to explore, plus hundreds of fabric choices, rugs, mattresses, outdoor furniture, wall art, pillows, and décor, plus exceptional design service, your satisfaction is guaranteed.  Come see why generations of Marylanders have been trusting Gladhill Furniture to turn their houses into homes.  www.gladhillfurniture.com

Not only does Middletown have one of the oldest furniture stores in the region, but we also have one of the newest!  Oak and Steel just opened their doors at 1 West Main Street on July 1, 2021.  Owned by Middletown High School graduate, Justin Riggs, Oak and Steel showcases the timelessness of oak and the industrial look of slender steel.  The result is a seamless blend of old, classic, new, and modern, with an eye on sustainability.   Each piece is crafted by passion to show their love of wood with the living edge, matched with artistically fashioned steel that adds detail and durability.  From small accessories to side tables, to complete room sets, Oak and Steel offers their own view on what defines hip and historic.  www.oakandsteelfurniture.com

Did you know that Middletown is home to one of those incredible sought-after designers that you only hear about through word of mouth?  Well, we are here to tell you about one of Middletown's best kept secrets: interior designer, Kirk Denton.  Kirk brings over 30-years of award-winning, published, professional interior design to his shop, Rhosymedre Design.  Kirk specializes in bringing to life interiors of historic properties so that the furnishings respect the historic space and scale, but also function beautifully to meet today's demands.  Not only does he work on historic interiors, but he can also address any home to bring diverse pieces together from your collection of furniture you inherited, along with pieces acquired twenty years ago, and pieces purchased five years ago to form a welcoming, layered, individual look.  www.rhosymedre.com

Depending on where you are in life, you may find yourself in a house with just too much stuff, too many clothes, toys, holiday décor, dishes, books, and out-dated technology.  There are also items that you just don't know how to organize – keepsakes from vacations, ALL THE photographs, and even items you simply don't want anymore. Middletown's S.O.S. – Simple Organizing Solutions is here to rescue.  Small biz owner, Cari Yarmus is quick, efficient, and does not just clean out, but leaves you with techniques to keep clutter at bay.  www.simpleorganizingsolutions.us

Remember, as you assess your interior after a blissful summer, Main Street Middletown businesses are here to help you make the most of your interior space.  After all, who doesn't need a little refresh in 2021?