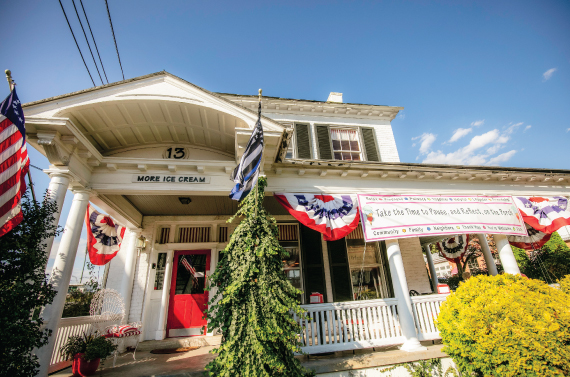 01 Jul

July 2021

Aah!  Summer at Last! 

This is definitely going to be the BEST SUMMER EVER!  As we all thankfully return back to "normal" day-by-day, we're ready to celebrate all that is good, great, and glorious!

And all that is good, great, and glorious can be found in Middletown as we gear up for our favorite obsession – the Ice Cream Season!  Summer occasions are marked by this deliciously cold and satisfying dessert and you can enjoy it in abundance in Middletown, so much so that we have been described as the Ice Cream Mecca of Maryland.

Ice Cream is part of our fabric and the obsession started with Main's Ice Cream Factory which quickly put Middletown on the map.  Visited by dignitaries and former United States Presidents Main's Ice Cream was as hot as the celebrity-filled unmarked bar in Manhattan.  According to locals living on Main Street in the 1960s, people stood in line – all the way down Jefferson Street (that's two blocks y'all!), literally 100s of people in line waiting for the glorious fresh taste of cream and sugar.  Take-out containers ranged from a single scoop to ten-gallon crocks!  While the factory is now closed, its legend lives on in the new form of The Main Cup, a destination eatery in its own right.

So, where can you indulge?

Lee DeLauter & Sons (LDS)

Just around the corner from the Main's Ice Cream Factory, it has its own confectionary trivia as home to the oldest dealer of Hershey's Ice Cream in the United States!  LDS has been scooping out dishes of ice cream since 1945!

More Ice Cream

Located in a large historic home facing our Main Street, bridges the generations of old and new.  Set back from the street, this majestic 1850s house features a wide, wrap-around front porch- that just melts the summer heat away.  Eating ice cream here brings out the kid in everyone!  Be sure to check out the photo galleries that are full of Middletown High athletes, coaches, and students from every decade since the 1960s.

Abbraccio Gelato

Not quite ready to travel to Italy? You can get close by tasting the straight-from-Italy recipes mixed daily in our newest Middletown confectionary. Owner, Ann Miller is a trained Gelato and Pastry Chef and meeting her is a treat within itself.  Gelato recipes call for more milk than cream, churn the custard more slowly, and are served at a lower temperature.  The result is a smooth, silky finish.  This is also what makes the flavors intense and burst from each bite.  Abbraccio Gelato is located next to Tapias on Main at 203 East Main Street.

Truly, a one-of-a-kind experience, South Mountain Creamery

Feeling a bit more adventurous?  South Mountain Creamery offers visitors a chance to not just eat freshly churned ice cream, but the opportunity to bottle feed the calves.  Three generations of the Sowers-Brusco Family work together to raise healthy-grass fed cows to produce milk, butter, yogurt, and of course, ice cream.

And this, my friends, is why Middletown, Maryland has a cultivated intrinsic love of Ice Cream. Come out and enjoy a scoop with us. We promise it will be tasty!